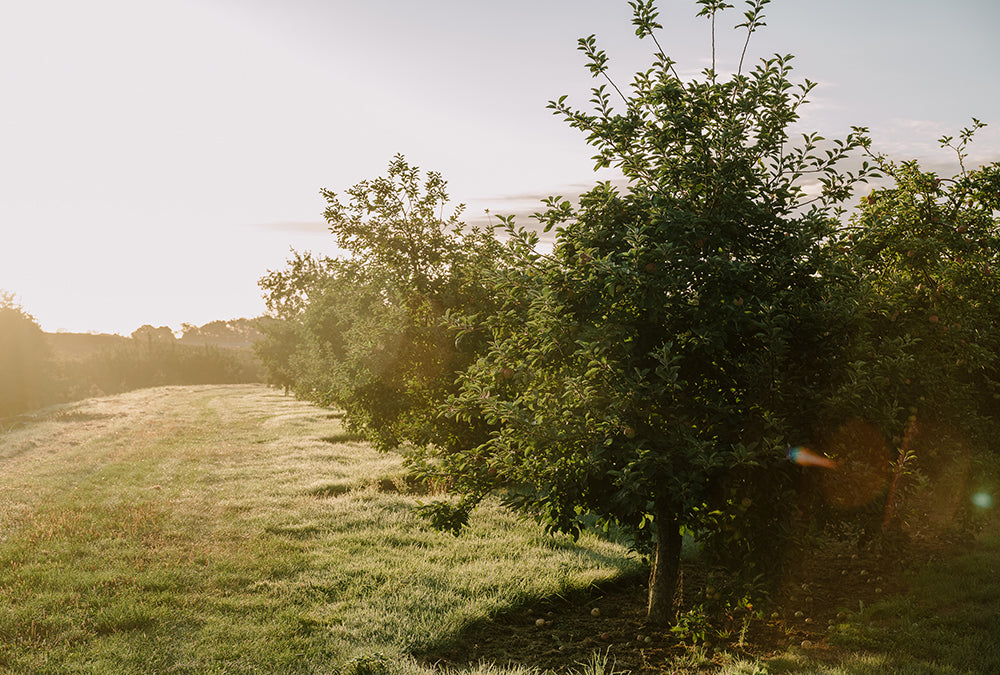 Terroir is central to creating the finest ciders and Somerset is cidermaking's prized plot. Orchards dot the county's unique landscape of flatlands and sudden uprisings, strange, soft mounds that were once islands, stretching across the Somerset Levels and Moors to the foot of the Mendip Hills.
The ideal apple growing environment
Somerset is blessed with the temperate climate of the south-west of England, long but never brutal summers and bright, gentle autumns. It has good soil, not too heavy, not too light, and smooth, workable south-facing slopes. It is perfect apple growing country. And the culture of cidermaking, a fine-grained understanding of Somerset's sun and soil, fruit and fermentation, has rooted here over centuries, skills practiced and perfected.
What is Terroir?
Terroir isn't just matter of land and climate, it's knowing how to make the most of it. Creating and maintaining the finest orchards is the highest form of horticulture and a delicate kind of choreography. It depends on skilled placing and spacing of trees, setting them in the right direction, understanding how and when they are sunned, how the soil drains, how they are shielded by local geography, their interplay with geology and microfauna. Trees in this kind of orchard, the kind of orchard that produces the apples for Showering's Triple Vintage, are not tightly packed or grown for quick, bumper yields, their output is limited but of the highest quality.
The right terroir for the perfect cider
The right terroir means you can get the best out of the best fruit. There are thousands of varieties of apple but very few of 'vintage' quality. The Dabinett, Triple Vintage's dominant fruit, is prime amongst them, judged to have perfectly balanced proportions of sugar, tannin and acid. It ripens to a bright red where it sees the sun and a vivid green where it sits in shade. Its juice carries hints of vanilla and bitter orange and is strong and structured enough to stand on its own or generous enough to complement and bring out the best qualities in other apples.
Using time & terroir to create quality vintage cider
Terroir is also about time. If you are creating a vintage, that year's particular order and incidence of frosts, floods and cloud-free summer days is evident in the fruit, in its balance of sweet and sharp, acid, sugar and tannin. Creating a Triple Vintage, artfully blending and matching different pressings and understanding how they have matured and mellowed, requires a rare mastery of taste, time and terroir. It's that mastery that makes Showerings a cider of the rarest quality.